EAACI Campaigns
EAACI is constantly using its position to campaign for better awareness of allergic diseases. Over the past years we've launched several successful campaigns. Keep coming back to hear about our future campaigns.
United Action for Allergy and Asthma – a European political Call to Action

The European Parliament Interest Group, EAACI and EFA launched the European political Call to Action "United Action for Allergy and Asthma" in April 2017 during a policy event in the European Parliament (Brussels). The Call to Action was promoted via a pan-European advocacy campaign uniting all strategic European and national stakeholders as well as interested individuals to help drive action and policy responses to allergy and asthma, in support of patients' rights.
In only five months, the campaign secured broad endorsement and received ample coverage in the European press. It was supported by nearly 190 national and European organisations, more than 5,000 individuals from across Europe and over 32 policy-makers.
European Parliament 115/2016 Written Declaration on Chronic Respiratory Diseases
With the support of EFA, EAACI and 7 other European health and respiratory organisations, 12 members of the Interest Group and colleagues tabled a written declaration on Chronic Respiratory Diseases in the European Parliament in autumn 2016, calling on the European Council and the European Commission to act for better prevention, diagnosis, care and rehabilitation in Chronic Respiratory Diseases. The Declaration was supported by over 250 Members of the European Parliament from 26 EU countries.
EAACI Advocacy Manifesto
The EAACI European Advocacy Manifesto proposes a series of evidence-based recommendations to tackle the burden of allergy in Europe, foster allergy research and help strengthen Allergology as a medical specialty. The European Commission and Parliament have a duty to act to help millions of European citizens and relieve their suffering from allergies.
Food Allergy Campaign
Anaphylaxis is an allergic reaction that can be severe and potentially life threating. So be ready to react on time, and learn and teach others how to use your adrenaline pen. It can save your life… Learn to recognise the symptoms and the triggers. Implement them in your daily life to improving your quality of life. And remember, if you are not sure about some food, just do not eat it!
EAACI launched its Food Allergy Campaign in 2012 to raise awareness of the sharp increase of anaphylaxis in children. It aimed at educating the public to recognise the symptoms and its triggers, and to teach methods of how to react in case of emergency, e.g. by using an adrenaline pen.
Food Allergy and Anaphylaxis Public Declaration, launched during the Food Allergy and Anaphylaxis Meting, FAAM 2013, in Nice, France.
Food Allergy and Anaphylaxis Guidelines
The Food Allergy Campaign was supported by the EAACI Patients Organisations Committee, with more than 25 country representatives from across Europe, North America, South America, the Middle East, Asia and Oceania.
EAACI Summit on allergen Immunotherapy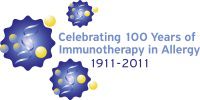 In February 2011, the EAACI Summit on allergen immunotherapy took place in Geneva, gathering some experts in the field and other stakeholders such as patient representatives, regulators and allergen manufacturers. The current status of different issues regarding immunotherapy was discussed, assessing certainties and controversies, identifying niches for further research, while established knowledge was set "black on white".
100 Years of Allergen Immunotherapy EAACI Celebration: review of Unanswered questions
The resulting output of the EAACI Summit on allergen immunotherapy, the document "One hundred years of allergen immunotherapy European Academy of Allergy and Clinical Immunology celebration: review of unanswered questions", was published in Allergy. Read it here.