The careful and creative chef – Giorgio Locatelli on food allergy
The careful and creative chef – Giorgio Locatelli on food allergy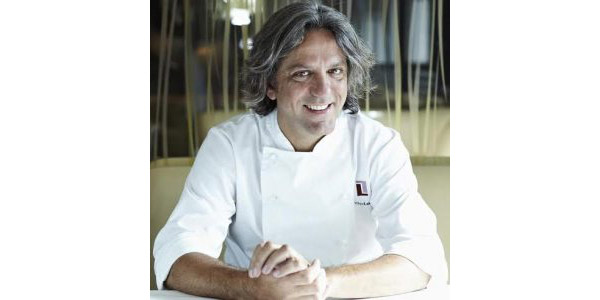 Those who impatiently wait for the new season of MasterChef Italia which will air in December, are familiar with its returning judge Giorgio Locatelli. On the show, the Michelin-starred London-based Chef will be observed imparting tough culinary advice to his new batch of contestants who make their way through the challenges, and dexterously handling ingredients to whip up mouth-watering plates. But his personal life involves an even deeper layer of knowledge about food, acquired through his daughter Margherita, now 22, who needs to beware of over 600 allergens in her daily life.
In an exclusive interview with EAACI, for the occasion of the Pediatric Allergy and Asthma Meeting held in Florence from 17-19 October, Giorgio Locatelli shares his story of adaptation and creativity to a disease which is life-threatening and currently affects 7% of children worldwide.
Discovering the dangers
Around the age of two, as soon as Margherita started eating solid food, she began showing some discomfort. Her eczema would not go away… and then it became a complete and utter nightmare. She was put into a closed area for three weeks and developed septicemia. We couldn't go in, my wife Plaxy had to be there 24/7, and Margherita had to be bandaged up like a mummy. After a month and a half in and out of the hospital… we still didn't know this was allergy.
Only very much later found out that she was allergic to tomato sauce that I was producing especially for her, with the Pachino tomatoes from Sicily. I was so proud to cook nice things for her but actually did not know I was poisoning her, and it was a very painful learning step."
Diagnosis happened when we moved to the seaside for her eczema, and her brother gave her a bit of smoked salmon playfully. After having it she blew up completely. That was the moment when we realized that it was allergy. She was presenting an anaphylaxis reaction, and was saved by some members of the fire brigade who were luckily carrying adrenaline with them.
Diaries and dietary do's and dont's
When you have an allergy, it is very important to record everything. This will become very useful to you in the future. We had a real, old fashioned diary and we would record everything she ate or did in it.
Unfortunately, in this family we live and breathe around food. Food is what it was all about: the quality, choosing the ingredients, being around food, cooking. We had to adapt and make different choices. Slowly, we realised the things she was not allergic to and that she could have.
At home no allergens could be brought into the house – no nuts, no chocolate, no fish were allowed. For four years we kept the restaurant nut-free because otherwise she couldn't come in at all. We would only fly on nut free flights otherwise we couldn't fly.
But once you know what it is, you work out the appropriate diet for the person and then it becomes manageable. You also need to make sure that food doesn't become just a phobia or something that you need to worry about constantly. Children need to maintain that pleasure while eating allergen-free food.
When she was small, we as her parents took care of what she could eat and her diet, growing up she obviously applied this to her own diet. She went to university in Bristol on her own and she cooked and lived well, with a deep understanding of what her diet is.
Cooking and coping
After Margherita's diagnosis, I felt that food, the most powerful tool, the thing which I use to communicate with everybody, wasn't working, and that I couldn't talk anymore. I loved cooking for my son and making him taste my creations, and at the beginning I thought it was something that couldn't be done with Margherita… that there would always be a bit of a limit.
But then we became creative. Food allergy is a big word that has a big meaning, you need to live with it and manage to make positive things out of it.
Kids love ketchup, and Margherita really wanted it. It was terrible not to be able to give it to her. So we tried to make ketchup out of bananas and apple and, although it was never red like a tomato, it was not bad at all!
I would make fish fingers without fish and copy everything her canteen did. Every day we would ask her, "what are they making in the canteen tomorrow?" And I make the exact same food as everybody else, but allergen free…they actually ended up telling us years after that kids in school would all want to eat our replicas because they tasted better!
When Margherita was around 10 -12 and was often coming to the restaurant kitchen, along with those who worked with me, I produced some of my best cooking where I was absolutely in the knowledge of everything that can happen when someone has a food allergy. It was an amazing training.
Margherita has outgrown tomatoes, so finally I was able to make her a really good pizza margherita, pachino tomato sauce and all… plus it's her name!
Restaurant rules
We as chefs and restaurant owners need to take care of food to make sure allergic patients know what to eat and what not to, but it is also important to keep the environment perfectly safe. I cannot be sure if there are no nuts in the kitchen, I can't tell 100%. So, if a customer with a severe food allergy comes, we cook the food in a satellite kitchen, where we sanitize equipment and keep the food completely separate. We are still really careful because volatile compounds can be lethal. Sometimes you think you've done everything perfectly but it is hard to be sure.
Chefs are more ingredient-led than they used to be. The amount of ingredients that can be used is so vast now that making good food out of the safe ones is not a problem, you just need to make a knowledgeable choice.
We go a long way to try to satisfy this need. One time a girl with a severe allergy celebrated her birthday at the restaurant. It was a fantastic thing to make that happen. We may not think it's that special, but if you are a food allergic individual who can't share these moments easily with everybody it becomes really sad.
A word from EAACI experts
"Food allergy, for all its stress, can help parents and kids learn how to self-advocate, a skill that can translate to many areas of life, and develop the ability to be creative and flexible. It also can instill in families a newfound empathy for the differences that we all have. Ensuring that you have food allergy management plans in writing and that all caregivers are educated in food allergy management and emergency medication administration can alleviate stress related to children being away from parents. Expanding your network of support so that one parent isn't responsible for all food allergy management also can relieve some of the mental burden related to daily food allergy management. To address the continued worried thoughts that may arise about specific situations, try working your way up the 'anxiety ladder' by planning for and trying those activities that cause the least anxiety first, and gradually moving your way up the ladder. Finally, engaging in self-care is important for mental health, especially when you are the parent of a child with food allergy." Says Linda Herbert (PsyD), Children's National Hospital, Washington DC.